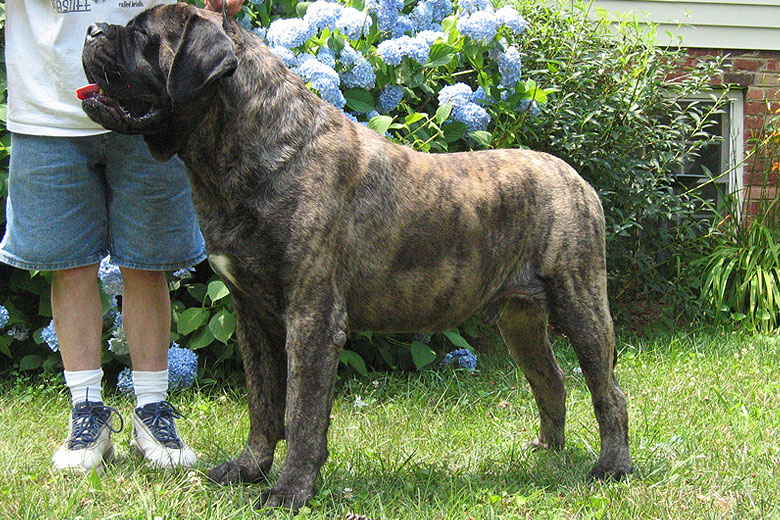 D.O.B.: 9/4/04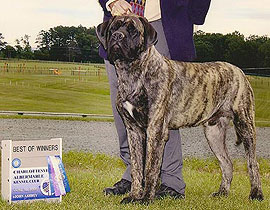 Bacchus was a single puppy, but he got all the right genes. We had to C-section his mom, Godiva, because Bacchus was so big and did not want to come out. His birth weight was a whopping 2 1/2 lbs.! From the start we could see the obvious potential Bacchus had. His temperament was, and still is, just as great.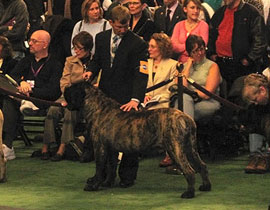 Bacchus took Best of Winners for 2 points in Charlottesville in his very first show at the age of 9 months and a weight of 145 lbs. We let him mature a while before we really began to show him. The older he got, the more massive his bone and head became - thanks to his dad - Ch. Old Schools Junior. We began to really show him over the summer of 2006. After a winning 4-point major in Greenville, SC; Bacchus finished with a 3-point major in Raleigh, NC in September 2006, one day before his second birthday.
Today, Bacchus stands 33" at the withers and weighs 220 lbs. Bacchus exhibits the true mastiff type in every way. His movement is exceptional, especially considering his size. Bacchus is an athlete and still jumps in the back of my SUV from a standstill. Bacchus achieved a national ranking of 17 by the AKC in 2007, and went on to the Westminster Dog Show for an impressive showing in February 2008. He was also invited to Eukanuba Nationals in 2007.

- Old School Tintagel's Blake


- Ch. Old School's Surprise Truck

- Old School's Ayla D'Ursa

- Ch. Old School's Junior

- Ch. Old School Sgt. Major's Sagar


- Old School's The Fifth Element

- Ch. Old School's Drucilla

- Semper Fi Bentley

- Ch. Semper Fi Stonewall

- Ch. Semper Fi Elsa

- Miller's Lady Godiva

- Old School Tintagel's Blake


- Miller's Happy-Go-Lucky Lola

- Mystic Ridge Delilah Miller